DOUBLE WALLED COLLECTION TANKS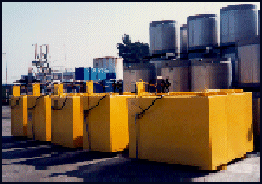 To meet the continuing emphasis on environmental matters, i.e., ground and ground water contamination, the liabilities due to spills, and the safe handling of hazardous waste, etc., FABRICATED METALS, INC. has developed a new line of Double Walled Collection Tanks for the collection of Flammable and Combustible Hazardous Waste.

These tanks carry a UL Label for both inner and outer shells and D.O.T. Models are available. The tanks were designed to provide secondary containment for above ground storage and are available in Steel, Stainless Steel, or Aluminum. An optional Graco Pumping System can be installed on the tank or over 100 ft away.

The new system assists in proper segregation and containment of hazardous waste and provides a lockable secure environment.
Product Highlights
Three models available :
A. UL Listed No. 142 above ground collection tank.
B. UL Listed No. 142 above ground pumping tank.
C. D.O.T. Spec 57 shipping container.
No secondary containment needed. No dike walls or pads .

Makes any location in a plant now possible for hazardous waste collection. No site modification needed.

Companies that supply products in containers to customers can reduce the possibility of tank leakage and misuse by installing double walled tanks.

System helps to segregate waste for collection.

Graco sealed UL Listed Pumping Systems or gravity systems are available for transferring waste liquids.

As you can see Fabricated Metals new Double Walled Tank System offers many unique advantages to industry. A complete Safe, Secure, Segregated Hazardous Waste management program.
---
CSI Fabricated Metal Bins
Material Handling Technology

A Division of CSI Industries

6910 West Ridge Road
Fairview, PA 16415

Tel: 800-356-9167
Tel: 814-474-9353
Fax: 814-474-5797
Customer Service : 800-435-8884

E-Mail us at: info@flo-bin.com
Back to Home
Copyright © 2004 CSI Fabricated Metal Bins

Last Update: 07/21/2005