FLO-BIN® Unloading Systems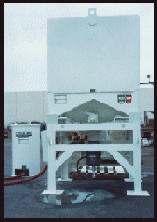 Fabricated Metals manufactures a wide range of Unloading Stands for it's complete line of products. The FLO-BIN® stand illustrated above can be manufactured in different heights and for any number of bins.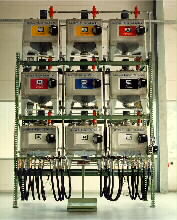 The ink dispensing system above illustrates the complexity of Unloading Systems available.
Please call for custom designed systems.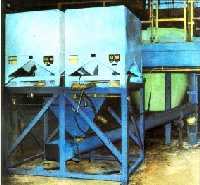 Dual FLO-BIN Unloading stand feeding into a screw conveyor.
---
CSI Fabricated Metal Bins
Material Handling Technology

A Division of CSI Industries

6910 West Ridge Road
Fairview, PA 16415

Tel: 800-356-9167
Tel: 814-474-9353
Fax: 814-474-5797
Customer Service : 800-435-8884

E-Mail us at: info@flo-bin.com
Back to Home
Copyright © 2004 CSI Fabricated Metal Bins

Last Update: 07/21/2005